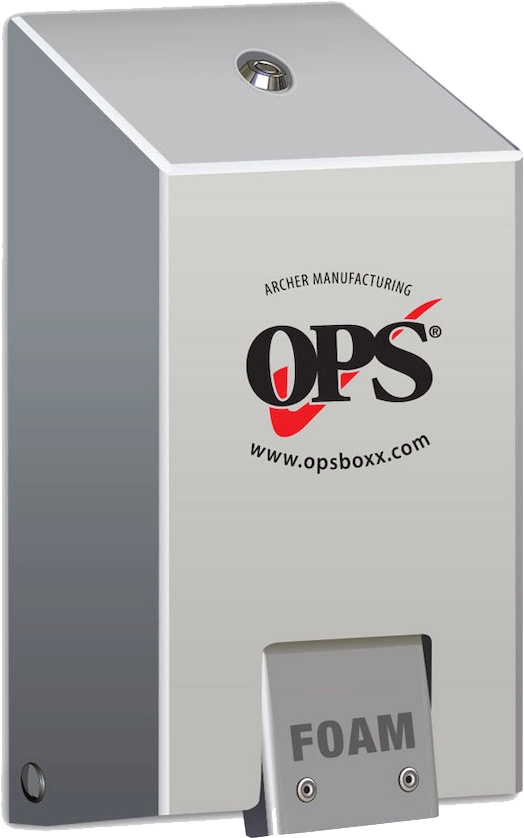 Soap dispensers are a part of every public bathroom, but they are also incredibly vulnerable to kids and adults damaging them. Nothing feels worse than walking out of a restroom without being able to wash your hands. Even functional dispensers with ugly graffiti or markings etched into them make the rest of the room feel gross and unwelcoming. Worse than that, drug addicts can use certain dispensers to clean heroin needles, creating a huge health risk for anyone that uses your public facilities.
The best thing to do is to get a dispenser that can withstand damage caused by vandals, especially if you own a business or run a service where destructive people have open access to your bathroom. If they cannot break the soap dispenser, your other guests can use your restroom without being forced to leave with their hands dirty.
---
The OPS Vandal Proof Difference
When defending your restroom against vandals, OPS Vandal Proof's line is the perfect solution. Our patented soap dispenser is indestructible, ligature resistant, and securely locked on the wall with the OPS mounting system. The mounting system completely prevents our dispensers from being torn off the wall. The structure of our stainless-steel soap dispensers also keeps any drug addict from cleaning their needles in the refill bag. Ensure that the bathroom is completely safe for all guests.
---
Soap Refills
Another thing that sets these dispensers above the average product on the market is our refills. Most competitors only hold 600 activations per refill. Vandal Proof's soap packs have 2500 activations per refill; this allows you and your maintenance staff to worry less about refilling the dispenser as often as before.
We also offer various refills, giving you options for what will fit your bathroom the best. These include an antibacterial foaming soap, eco-friendly soap, 70% alcoholic hand sanitizer, and non-alcoholic foaming hand sanitizer. We also have an all-in-one soap, shave cream, and conditioner in case you run a program that also needs a complete bathroom for guests.
Antibacterial Hand Soap
This refill is incredible because of its versatility. While it is an antibacterial hand soap, it is also MSF E-2 rated, meaning it is certified for use in commercial kitchens and restaurants while enhancing HACCP programs. If you run a fast food restaurant, a fine dining establishment, or own a program that requires a fully functioning kitchen, this refill will fit your needs. The product also smells fantastic, which is just icing on the cake.
Hand Sanitizers
With the rise of Covid, hand sanitizer has become a regular part of our experience, including at entrances to stores, restrooms, and other public facilities. When you walk into a store, it is normal to see a big bottle of hand sanitizer immediately. Both the alcoholic and alcohol-free hand sanitizers are perfect for situations where people need to clean their hands quickly. These products are also NSF E-3 rated, meaning they are safe for use at food processing plants.
Eco-Friendly Soap
This refill provides an eco-friendly option. Perfect for use in parks and other restrooms near natural areas, as the eco-friendly formula will not negatively impact any nearby environments.
All-In-One Hand Hair And Body
Not every restroom facility is limited to needing soap or sanitizer for the public's hands. Because of this, Vandal Proof provides a multi-purpose option, allowing for use in hair and on people's faces. This refill is perfect for campsites with general shower facilities, prisons, psychiatric facilities, food processing plants, and any other program that requires employees or other people to stay for a while. This formula does not leave residue, making cleaning and maintaining the facility substantially easier.
---
Buy Your OPS Soap Dispenser
Maintenance time and cost are the most important things to cut back on when running any business. Choosing the right product can help lower the time and money you and your staff spend on maintenance. Vandal Proof's tamper proof soap dispenser is the right product. With this purchase, you will defend against repairs, health dangers, and complete replacements of a busted dispenser. You also have a wide variety of refills to fit your needs. Order your very own OPS Vandal Proof soap dispenser today!
---
Download The OPS Dispenser PDF
Download The OPS Dispenser Installation Guide Here
---

Grainger is a leading business-to-business distributor headquartered in the U.S. and provides access to maintenance, repair, and operating (MRO) supplies for over a million customers around the world.

Fastenal provides companies with the fasteners, tools, and supplies they need to manufacture products, build structures, protect personnel, and maintain facilities and equipment.

For Distribution in Australia, please purchase from First Aid Distributions.
---