Commercial Toilet Tissue Dispensers
---
OPS Toilet Tissue Dispenser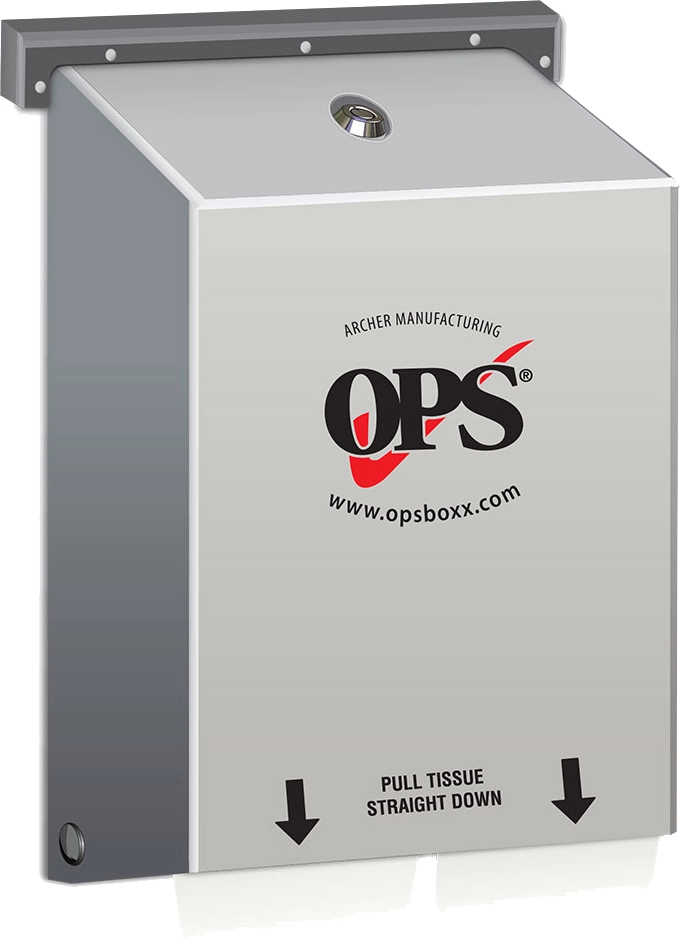 USE FOR TOILET TISSUE IN A BATHROOM STALL.
USE NEAR BATHROOM DOOR EXIT SO GUESTS CAN USE TISSUE TO OPEN THE DOOR.
PATENTED DISPENSER.
800 OPS® TISSUE SHEET CAPACITY.
LIMITS DISPENSING 1 SHEET AT A TIME (guests cannot rip out 30 sheets to throw on floor or to flood toilet).
PLACE 2 DISPENSERS SIDE BY SIDE TO DOUBLE TISSUE CAPACITY IN HIGH VOLUME AREA.
HEAVY DUTY STAINLESS STEEL
Toilet paper is a necessity for every bathroom. Without this, the people that frequent your business or service will lose trust in your establishment. Unfortunately, managing these dispensers can become time-consuming and costly. Getting the wrong one will mean constantly going back for regular maintenance or frequently buying replacements due to vandals destroying them.
Vandal Proof has meticulously designed a dispenser that will drastically cut the time spent on repair and maintenance. Our line of stainless steel toilet tissue dispensers is specifically designed to stand up against abuse from vandals. Order your own today!
---
Tamper Resistant Toilet Tissue Dispenser
Cheaper options on the market are made of hard plastic or weak metal. Due to the hardy stainless-steel exterior of the OPS toilet paper dispensers, you don't need to worry about them being damaged. The OPS mounting system is also specifically designed to make it impossible for vandals to tear the dispenser clear off the wall. These factors make them indestructible, meaning you will never need a replacement.
OPS 2-Ply Interlocking Toilet Sheets
Another fantastic benefit of the OPS tissue holders is their increased capacity for storing refills and how they are stored. Each dispenser holds two 800-sheet refills, significantly reducing the time you need to spend on maintenance. These refills are septic-tank safe. They also do not have a cardboard core, reducing waste and time spent on maintenance. In addition, they only dispense one 2-ply sheet at a time, meaning vandals can't tear out entire rolls and use the tissue to clog toilets and sinks.
400 INDIVIDUAL SHEETS PER PACK. 40 PACKS PER CASE. 16,000 SHEETS PER CASE.
NO CARDBOARD CORES TO THROW OUT OR TO BE THROWN IN THE TOILET.
UNLIKE ROLL TISSUE, ONLY 1 SHEET IS DISPENSED AT A TIME (dramatically, slows usage, no more clogged toilets, and savings in less sheets used per use).
---
Ligature And Fire Resistant Dispensers
You may have to worry about residents in your establishment attempting to harm themselves on the dispensers in your bathroom. Vandal Proof's tissue holders are designed with rounded corners and edges to limit any damage done. The rounded edges also stop people from tying anything around it.
You also do not need to worry about any arsonists entering your bathroom and setting fire to the tissues in the holder. The OPS dispensers are specifically designed to put out fires right when they reach the refills stored inside. The lack of holes in the exterior makes the refill storage air-tight, and fire needs oxygen to stay alight. You should not need to worry about your establishment burning down due to a fire starting in a bathroom. Order your toilet paper holder today!
Protect Your Bathroom The Right Way
No matter what your bathroom dispenser needs, OPS Vandal Proof has the best product designed to protect the space. We have what you need, from soap or hand sanitizer to paper towel holders. Each of our products has the same air-tight stainless steel design, keeping vandals from destroying the peaceful oasis you have created. Ensure that the people entering your bathroom have a safe and comfortable experience. Order your very own Vandal Proof toilet paper dispensers today!
---
Download The OPS Toilet Tissue Dispenser PDF
---

Grainger is a leading business-to-business distributor headquartered in the U.S. and provides access to maintenance, repair, and operating (MRO) supplies for over a million customers around the world.

Fastenal provides companies with the fasteners, tools, and supplies they need to manufacture products, build structures, protect personnel, and maintain facilities and equipment.

For Distribution in Australia, please purchase from First Aid Distributions.
---